Windsurf Sail Repair

Unfortulatly due to high work loads we are currently not taking on any sail repairs
Concept sails has a specialist windsurf sail service and repair workshop situated just a half mile from Poole harbour one of the UK's most popular windsurfing spots.
It is a sail loft owned and run by windsurfers who understand the importance of the intricate design features on what are arguably the most hi tech sails in the water sports world.
| | |
| --- | --- |
| We have a large stock of laminates, monofilms and dacrons some of which have been supplied directly from the sail manufacturers others from the same factories that suply them. This makes it possible to get the highest quality repair. Our technical expertise and love for the sport coupled with top grade machinery and materials has meant we are now recommended repairers for many top brands including North, Simmer Style, Tushingham, Ezzy, Maui sails, and Goya sails. We are also used by many UK shops as well as top training centres | |
We also understand though that not everyone has the need for as good as new looking repairs so we have a separate tariff of repairs for those sails that are less valuable but very much loved. For example we can replace a section of a panel instead of the whole window and work a new seam into the graphics of the sail so that it doesn't stand out and look obvious. Using this technique we can repair your sail using less material and achieve a result that doesn't affect the foil or performance. Please be aware though that in some cases you can sacrifice a bit of strength using this technique as we are adding seams that were not originally designed to be there.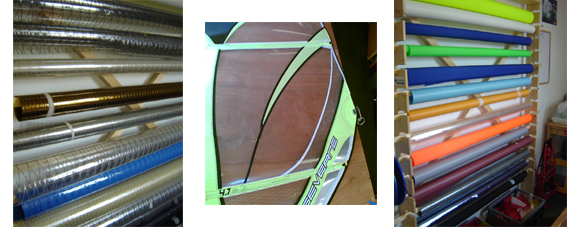 How much does it cost? This is a very broard question in sail repair but with windsurfing sails the most common repair - a replacement panel will cost £30 in labour plus the new monofilm. A ball park for this is measure the longest width of the damaged panel and round up to the nearest half meter - monofilm is near enough £10 per meter so you can calculate a rough cost. X ply is more expensive and as soon as you cross seams with the rip it qets more comlplex to work out so send a picture for a quote. Luff tube rips like the one in the clip below are about £35 depending on size.
We get massive support from H20 sports, one of the UK's largest windsurf shops who handle all our walk in customers. If your sail is totally destroyed they have a huge range of new and second hand sails to look through as well as all the other bits and pieces you may or may not need.